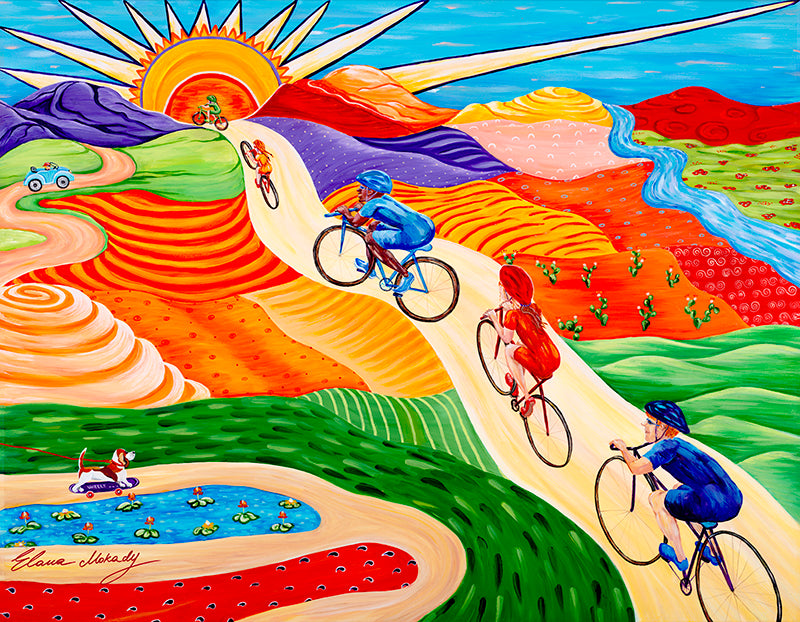 Wheels on Hills, Original Wall Art
$ 0.00
This product is no longer available. Join our newsletter for new coming work announcements. More Info ˅
This product is no longer available.

Join our newsletter for new coming work announcements.
This piece is about much more than my love of nature. It's about savoring the journey … even when it feels like you're pedaling uphill. Just like each cyclist represented here, I believe that each of us (that means YOU!) has a dream inside that keeps us going. The larger-than-life sun represents that big, sometimes "prickly" goal we're all striving to achieve.
Though we may all take our own separate paths (like the guy in the little blue beetle in the top left-hand corner!) we're all in it together, giving each other a "push" when we need it most. Every vastly different "quilted" patch of Earth on either side represents the different places, cultures and backgrounds we come from. And like every good adventure, you're sure to find a new small surprise and hidden gem every time you look at this painting.
Like one of my favorite authors Dr. Seuss says, "your mountain is waiting, so get on your way" (and add The Climb to your cart today!).
The beautiful pieces curated here are all hand-painted by Elana. They are original works of art, born from Elana's imagination and creativity, and available for immediate purchase. 
Every piece of art is created with acrylic paint on high-quality canvas. Using her signature bright and bold color palette, each painting combines vivid imagery and optimistic themes that represent Elana's illustrative and symbolic style. 
An original Elana Mokady painting is designed to bring color and joy into your home…and into your life.
Less Info

˄