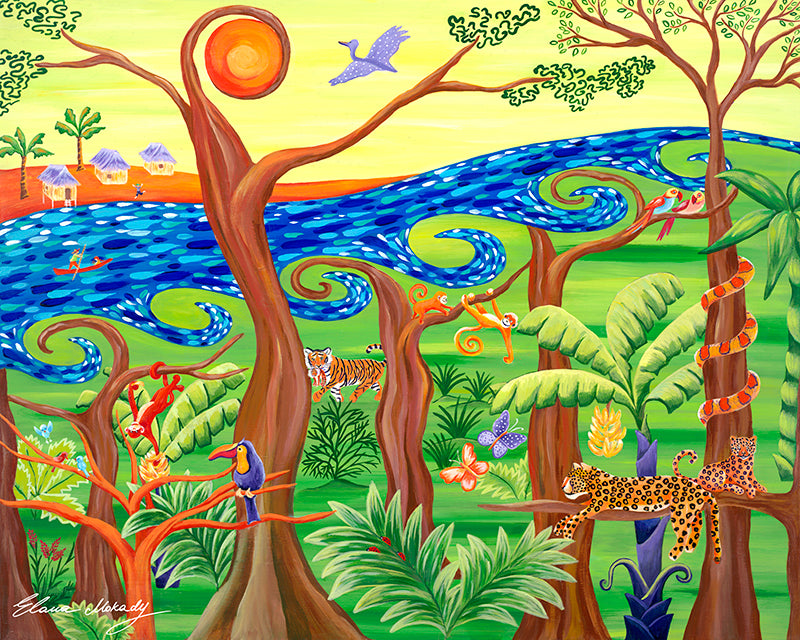 Joyful Jungle, Original Wall Art
$ 0.00
This product is no longer available. Join our newsletter for new coming work announcements. More Info ˅
This product is no longer available.

Join our newsletter for new coming work announcements.
Welcome to the world's friendliest jungle, where tigers, snakes, monkeys and cheetahs coexist in total harmony. As a mom of three, I know few things are more fascinating to a young, growing mind than spotted and striped, brightly colored animals.
Whether you're looking for the perfect animal nursery art or redecorating the playroom, this vibrant acrylic painting will bring a colorful burst of joy to any kids' room. As your little wild one starts to notice and explore the world around them, they'll be naturally drawn to this vivid scene: the bright green trees that appear to be swaying, the flowing river, serene sky, and of course the many creatures they'll find inside my painting. My hope is that Joyful Jungle inspires endless stories, first words, and fond memories that make you smile.
The beautiful pieces curated here are all hand-painted by Elana. They are original works of art, born from Elana's imagination and creativity, and available for immediate purchase. 
Every piece of art is created with acrylic paint on high-quality canvas. Using her signature bright and bold color palette, each painting combines vivid imagery and optimistic themes that represent Elana's illustrative and symbolic style. 
An original Elana Mokady painting is designed to bring color and joy into your home…and into your life.
Less Info

˄