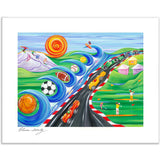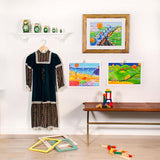 Sports Dream, Paper Print
$ 90.00
Remember that feeling that you could do anything, be anyone, go anywhere? As a mom, it's what I hope my children still feel to this day (even though I just sent another one of my babies off to college this... More Info ˅
Remember that feeling that you could do anything, be anyone, go anywhere? As a mom, it's what I hope my children still feel to this day (even though I just sent another one of my babies off to college this past year). This is that feeling in one bold, bright, energetic painting. Because it's not every day you see snow-capped ski hills, larger-than-life waves for surfing, a race track, and a golf green in one magical place.
Whether you're looking for inspiration for the game room or the kids' room, Sports Dream makes the bold statement that with the right attitude, anything truly is possible. Give your aspiring athlete, scientist, president or teacher an image that inspires them to dream big and play hard.
Don't drop the ball! Only a limited number of Sports Dream prints are available. Ready, set, shop!
If you're looking for the perfect gift for a birthday party, baby shower or housewarming – bright, colorful art prints make everyone happy.
Our paper prints bring a beautiful, affordable design element to any room and the freedom to mix and match them in different sizes and frames lends itself to a unique, stylish look in any space.   
Specs:
Fine Art watercolor paper
Non-reflective, slightly textured finish
Printed in Limited Edition of 250
Hand-signed by Elana
Two-inch, white border for easy framing

16" x 20" print size - image size 12" x 16"
22" x 28" print size - image size 18" x 24"
Sports Dream is also available as a canvas print.
Less Info

˄