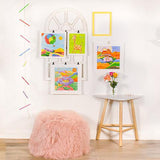 Creation, Paper Print
$ 72.00
"I decided that if I could paint that flower in a huge scale, you could not ignore its beauty." - Georgia O'Keeffe More Info ˅
"I decided that if I could paint that flower in a huge scale, you could not ignore its beauty." - Georgia O'Keeffe
If you ever stop to look at your kids and think to yourself, "How did we make something so beautiful?" Then this painting belongs to you. It may look simple on the surface, but Creation is a celebration of life and all the beauty in it. The giant purple flower represents birth. The soothing purple and orange color palette is perfect for a relaxing, yet uplifting kids' room, playroom or nursery. Those who know my work well will notice something strikingly different about this painting. A departure from my signature fiery orange swirl, here I created the sun as an homage to Georgia O'Keefe. She's one of my favorite artists and her work is featured at the Museum of Fine arts right here in Boston.
Only a limited number of Creation prints are available, so don't wait. Give you and your children something to smile about every single day.
Our paper prints bring a beautiful, affordable design element to any room and the freedom to mix and match them in different sizes and frames lends itself to a unique, stylish look in any space.   
Specs:
Fine Art watercolor paper
Non-reflective, slightly textured finish
Printed in Limited Edition of
Hand-signed by Elana
Two-inch, white border for easy framing

16" x 16" print size - image size 12" x 12" - 

limited edition of 50

24" x 24"

 

print size - image size 20" x 20" - limited edition of 25
Creation is also available as a canvas print.
Less Info

˄