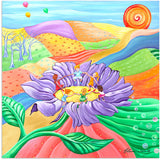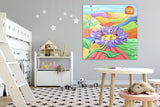 Seeds Of Life, Canvas Print
$ 168.00
Turn any blank wall into a magical wonderland with Seeds of Life, a brightly colored world filled with bubbles, balloons, flowers and friendship. Flowers are a major theme in my work, not just because the colors and smells make me... More Info ˅
Turn any blank wall into a magical wonderland with Seeds of Life, a brightly colored world filled with bubbles, balloons, flowers and friendship. Flowers are a major theme in my work, not just because the colors and smells make me smile from ear to ear, but because to me, flowers represent life. And kids? They're seeds in need of nurturing. You and I are here to help them bloom into kind souls with big hearts and curious minds. From the swirling sun and blue trees to the purple patches of field, this painting looks at life through the eyes of carefree children who still have nothing but goodness, optimism, acceptance and joy in their hearts. We can learn so much from our children, if we let them teach us.

Bring a limited edition Seeds of Life print home today (and never lose your sense of wonder).
Specs:
Non-toxic, water based
Easily cleaned with a soft cloth
Hand-stretched on wooden stretchers, featuring beautifully painted sides or a mirrored border
Ready to hang
All Sizes are printed in limited editions, and they are 1.5 inches deep
Prints on canvas are made to last over 100 years. The perfect collector's item!
Seeds Of Life is also available as a paper print.
Less Info

˄