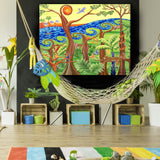 Joyful Jungle, Canvas Print
$ 196.00
Welcome to the world's friendliest jungle, where tigers, snakes, monkeys and cheetahs coexist in total harmony. As a mom of three, I know few things are more fascinating to a young, growing mind than spotted and striped, brightly colored animals. More Info ˅
Welcome to the world's friendliest jungle, where tigers, snakes, monkeys and cheetahs coexist in total harmony. As a mom of three, I know few things are more fascinating to a young, growing mind than spotted and striped, brightly colored animals.
Whether you're looking for the perfect animal nursery art or redecorating the playroom, this vibrant acrylic painting will bring a colorful burst of joy to any kids' room. As your little wild one starts to notice and explore the world around them, they'll be naturally drawn to this vivid scene: the bright green trees that appear to be swaying, the flowing river, serene sky, and of course the many creatures they'll find inside my painting. My hope is that Joyful Jungle inspires endless stories, first words, and fond memories that make you smile.
Only a limited number of Joyful Jungle prints are available, so don't wait. Give you and your baby something to smile about every single day.
Pro Mom Tip: Hang it above the changing table for more joyful, less tearful diaper changes!
Specs:
Non-toxic, water based
Easily cleaned with a soft cloth
Hand-stretched on wooden stretchers, featuring beautifully painted sides or a mirrored border
Ready to hang
All Sizes are printed in limited editions, and they are 1.5 inches deep
Prints on canvas are made to last over 100 years. The perfect collector's item!
The Joyful Jungle is also available as paper print.
Less Info

˄