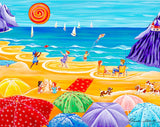 Parasol Parade, Canvas Print
$ 196.00
Sand in your toes, salty ocean air, your children running barefoot and carefree. This, to me, is a perfect day. If you're someone who wishes you could glimpse the ocean every day, now's your chance to create your own little... More Info ˅
Sand in your toes, salty ocean air, your children running barefoot and carefree. This, to me, is a perfect day. If you're someone who wishes you could glimpse the ocean every day, now's your chance to create your own little corner of paradise at home. Whether you hang it above the couch or fireplace, in the entryway of your beach home, or in your children's nautical, shark or surfer-themed playspace, the optimistic, whimsical energy of Parasol Parade will instantly help your worries drift away. Your children will adore the purple mountains (ask them to tell you how many dogs and sailboats they can count, then see if they can find the castle in the sky!).


Want to feel like you're on vacation every day? Parasol Parade is one of my most in-demand pieces and only a limited quantity remain. Brings your home today.
Specs:
Non-toxic, water based
Easily cleaned with a soft cloth
Hand-stretched on wooden stretchers, featuring beautifully painted sides or a mirrored border
Ready to hang
All Sizes are printed in limited editions, and they are 1.5 inches deep
Prints on canvas are made to last over 100 years. The perfect collector's item!
Parasol Parade is also available as paper print.
Less Info

˄