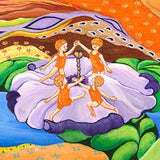 Creation, Canvas Print
$ 168.00
"I decided that if I could paint that flower in a huge scale, you could not ignore its beauty." - Georgia O'Keeffe More Info ˅
"I decided that if I could paint that flower in a huge scale, you could not ignore its beauty." - Georgia O'Keeffe
If you ever stop to look at your kids and think to yourself, "How did we make something so beautiful?" Then this painting belongs to you. It may look simple on the surface, but Creation is a celebration of life and all the beauty in it. The giant purple flower represents birth. The soothing purple and orange color palette is perfect for a relaxing, yet uplifting kids' room, playroom or nursery. Those who know my work well will notice something strikingly different about this painting. A departure from my signature fiery orange swirl, here I created the sun as an homage to Georgia O'Keefe. She's one of my favorite artists and her work is featured at the Museum of Fine arts right here in Boston.
Only a limited number of Creation prints are available, so don't wait. Give you and your children something to smile about every single day.
Expertly reproduced from original, vibrant works of art, each painting is made to order, especially for you. Beautiful and affordable – decorate from your heart. 
Build your own gallery or discover the perfect gift for the one you love – and know it will last a lifetime. 
Specs:
Non-toxic, water based
Easily cleaned with a soft cloth
Hand-stretched on wooden stretchers, featuring beautifully painted sides or a mirrored border
Ready to hang
All Sizes are printed in limited editions, and they are 1.5 inches deep
Canvas Print are made to last over 100 years. The perfect collector's item!
Creation is also available as a paper print.
Less Info

˄