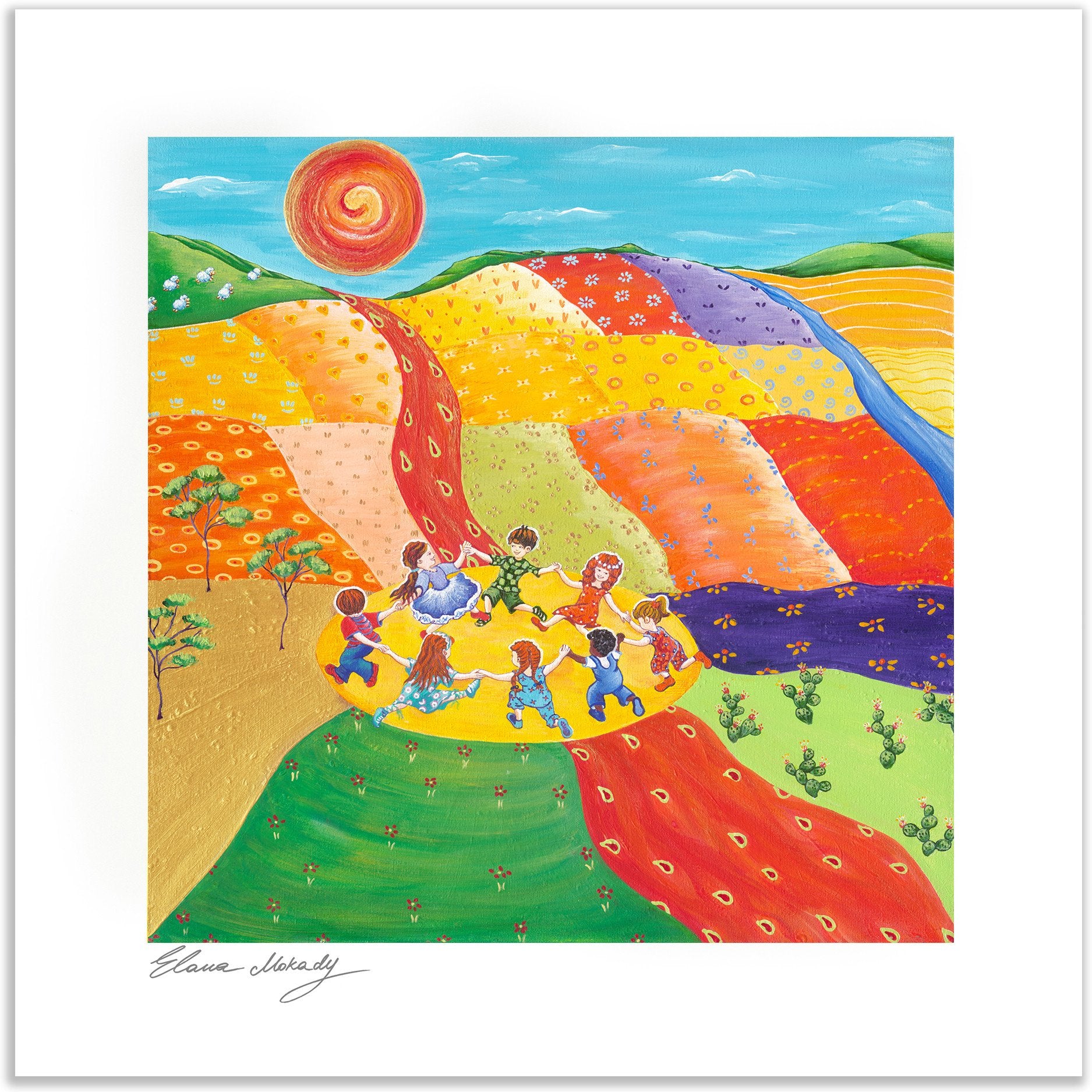 Childhood, Paper Print
$ 72.00
You want your child's bedroom or playroom to be a whimsical space that inspires joy, imagination and love. What could be more joyful than singing, dancing, laughing children holding hands in a field? It feels like just yesterday I created... More Info ˅
You want your child's bedroom or playroom to be a whimsical space that inspires joy, imagination and love. What could be more joyful than singing, dancing, laughing children holding hands in a field? It feels like just yesterday I created Childhood, when my children were still very young. This is also where one of my signature elements, the quilt-like patchwork landscape, first emerged. I imagined what the ground looks like when you're in an airplane, 30,000 feet in the air, and the first image that came to mind was a quilt! A collection of patches, each with a different purpose, color, and texture. Hang Childhood above their bed, crib, or above the couch and find something new to smile about every day.
This is one of my most loved pieces and only a few remain. Bring Childhood home today.
If you're looking for the perfect gift for a birthday party, baby shower or housewarming – bright, colorful art prints make everyone happy.
Our paper prints bring a beautiful, affordable design element to any room and the freedom to mix and match them in different sizes and frames lends itself to a unique, stylish look in any space.   
Specs:
Fine Art watercolor paper
Non-reflective, slightly textured finish
Printed in limited edition
Hand-signed by Elana
Two-inch, white border for easy framing

16" x 16" print size - image size 12" x 12" - 

limited edition 0f 50

24" x 24" print size - image size 20" x 20" - 

limited edition 0f 25
Childhood is also available as a canvas print.
Less Info

˄